DHB-E 18 AU / DHB-E 27 AU
This product is no longer available
You can still access product information and downloads from this page.
Recommended Product: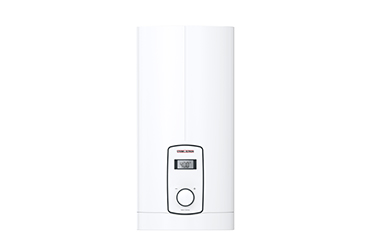 New generation DHB-E
Made in Germany
Electronically controlled
Accurate continuous flow temperature delivery selection between 20 and 60 °C
Suitable for hard and soft water areas
View DHB-E 13 / 18 / 27 LCD
Made in Germany
Electronically controlled
Space saving design
Suitable for hard or soft water areas
Rotary dial with temperature selection between 30-60°C
Ask Quick Question
Product Overview
Instant hot water up to the performance limit
The STIEBEL ELTRON DHB-E three-phase electric instant hot water heater offers the comfort settings of an electronically controlled instantaneous water heater. With 3i Technology, there are three sensors that actively control the hot water output. This compensates for temperature fluctuations in the water supply delivering a pleasant hot water experience. The DHB-E saves energy by heating water only when required, unlike storage water heaters that are constantly heating and reheating water to maintain the desired temperature.
Available at:
Or your local plumbing supply store.
Product Details
High quality engineering
Made in Germany
Electronic safety system with air detection
Bare wire element is suitable for hard and soft water areas
WaterMark Lic No. WMKA00301, AS3498
Electronically controlled
Flexible installation
Space saving design
No safe tray or ventilation required
Available in two electrical sizes:
DHB-E 18 AU - 19.6kW, 27 Amps per phase, three phase 415V
DHB-E 27 AU - 28kW, 40 Amps per phase, three phase 415V
Warranty
5 Year full parts and labour domestic warranty*
*Conditions apply - refer warranty policy for full details.
Technical Data
Model number
DHB-E 18 AU
DHB-E 27 AU
Rated output (415V)
19.4kW
28kW
Rated current (415V)
27Amp
39Amp
Phases
3/PE
3/PE
Electrical Installation
As per AS/NZS3000
Installation requirements
AS/NZS3500.4.2 & local requirements
Switch on flow rate (minimum flow rate required to switch on the water heater)
3.0L/min
3.0L/min
Permissible operating pressure
1000kPa
1000kPa
Temperature adjustment
30-60°C
30-60°C
IP Rating
IP25 (IP24 at electrical connection finished walls)
IP25 (IP24 at electrical connection finished walls)
Height
478mm
478mm
Width
225mm
225mm
Depth
105mm
105mm
Weight (filled with water)
5.5kg
5.5kg
Colour
white
white
Nominal capacity
0.4L
0.4L
Flow rate limiter (if fitted) L/min
7.5 (blue)
8.5 (green)
Approvals
WaterMark Lic No. WMKA00301, AS3498
For one/several draw off points
Yes/Yes
Yes/Yes
Heating system
Bare wire
Bare wire
Electronic flow rate control
No
No
Electronic air detection system
Yes
Yes
Accepts pre-heated water (solar)
No
No
Programmable temperature
No
No
Downloads
File
Category
Type
Download
DHB-E AU Data Sheet
Data Sheet
PDF
761.21 kB
DHB-E AU Operation and Installation
Operation and Installation Guide
PDF
9.19 MB
DHB-E AU Warranty
Warranty
PDF
110.53 kB
Revit file of STIEBEL ELTRON's DHB-E
Technical Drawing
RFA
392.00 kB
STIEBEL ELTRON Tech Line Drawing DHBE
Technical Drawing
JPG
1.84 MB
STIEBEL ELTRON Exploded Diagram DHBE
Exploded Diagram
PDF
224.18 kB
Model & Serial Number Location
Serial Number Location
PDF
141.08 kB
FAQ
1. How do I know if I have 3 phase power available at my property?
Contact your local energy provider and inform them of your address. They will be able to let you know if you have three-phase power available at your address.
2. I have 3 phase power at my property, can I install a DHB-E instant hot water system?
You will need to check with your electrician to find out how much 3 phase power is available in "Amps per phase". The DHB-E 18 AU water heater requires 27 Amps per phase, whereas the DHB-E 27 AU requires 40 Amps per phase.
3. I have a 3 phase electric instantaneous unit I want to replace, what STIEBEL ELTRON system should I select?
You will need to confirm the amperage supply to the hot water unit from the circuit breaker in the switchboard. Please contact us to confirm the appropriate instantaneous electric hot water system.
4. What size instantaneous electric water heater do I need for my apartment or house?
As a general rule, the instant hot water system required will be based on the number of hot water outlets the hot water system needs to service, along with the incoming cold water temperature. As a general guide in an apartment/house with 1 bathroom, a 19.4kW three-phase electric instantaneous water heater (e.g. DHE 18 AU, DEL 18 AU or DHB-E 18 AU) is suitable. In a house with 2 bathrooms, a 28-29.1kW three-phase electric instantaneous water heater (e.g. DHE 27 AU, DEL 27 AU or DHB-E 27 AU) should be selected.
5. How can I tell if I have a DHB-E 18 AU or a DHB-E 27 AU?
Underneath the dial that adjusts the temperature there is a flap that pulls forward and then drops down. A rating label is located up under the flap showing the model and size - DHB-E 18 AU or DHB-E 27 AU. Within the downloads section of the DHB-E you can download a pdf showing you exactly where and how to locate this sticker.
6. What hot water temperature can the DHB-E AU water heaters deliver?
The DHB-E 18 AU and DHB-E 27 AU can deliver hot water at 60 degrees Celsius. If supplying hot water for a domestic bathroom, the plumbing regulations require the installation of a temperature control device to supply water not exceeding 50°C. Alternatively, the STIEBEL ELTRON DEL AU instantaneous electric water heater may be a suitable choice which delivers hot water not exceeding 50 degree Celsius in accordance with AS3498. Click on the DEL AU product to find out more.
7. Where can the DHB-E AU instant hot water system be installed?
The water heater can be installed almost anywhere due to its compact size. The water heater does not require ventilation, relief drain or safe trays so it can be installed in a cupboard, in the roof space, below the sink, in a service cavity, in a Euro laundry just to name a few options. If installing outdoors the hot water system must be protected from the elements by a protective covering such as a meter box.
8. How far can the water heater be installed from the hot water outlet?
The DHB-E AU water heaters are designed to be installed as close as practical to the most used hot water outlet. Installing closer to the point of use can help to save water and energy by delivering hot water quickly to the outlet. The STIEBEL ELTRON three-phase electric instantaneous water heaters are designed to service multiple outlets located several metres away from the system.
9. How efficient is an instantaneous electric water heater compared to an electric storage hot water system?
Compared to a storage hot water unit an electric instantaneous water heater can be up to 30% more efficient. This is due to the water heater not storing any hot water and having heat losses from storing a body of hot water.
10. Where can I purchase a DHB-E AU water heater?
The DHB-E AU water heater range is available from all leading plumbing stores.