Underfloor Heating Mats
If you would love to walk around barefoot, even in the dead of winter, an under tile heating system is for you. Electric mats are simply laid underneath the floor and instead of just warming the air in the room, they will warm the floor itself and allow the heat to rise and provide comfortable warmth.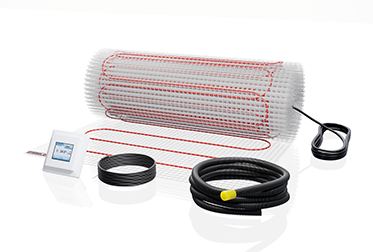 Available only at ReeceTM
Electronic controller with WiFi-connectivity
Mats can be adapted to fit around fixtures
Helps prevent mould by drying quickly
Mats are available in a number of sizes
Find Out More
About Underfloor Heating
Greater comfort with luxurious European underfloor heating.
At STIEBEL ELTRON, we are dedicated to elevating the comfort of your home. Our selection of underfloor heating mats is designed to offer you a luxurious and cosy underfoot experience while ensuring efficiency and convenience. Our programmable controller effortlessly maintains your desired floor temperature at your chosen time. Say goodbye to chilly floors with our RTF-Connect system, which simplifies the management of your underfloor heating. Setting it up is a breeze, and you can take full control via the thermostat or the user-friendly app.
Our underfloor heating mats come in two distinct styles: the first is tailored for under-tile installations, ideal for your comprehensive underfloor heating needs. The second variant is specifically crafted for in-shower under-tile heating, perfect for shower areas. Bathrooms, particularly shower spaces, are susceptible to mould due to lingering moisture. Our in-shower underfloor heating mat combats this issue by warming the shower base and swiftly drying the area, preventing mould growth.
Choose from a range of mat sizes to accommodate various room and shower dimensions. Experience the epitome of comfort and warmth with STIEBEL ELTRON underfloor heating mats.