History
Taking an idea and making it a reality, from a small backyard workshop in Berlin Dr Theodor Stiebel developed his first innovative water heater under the premise of providing customers with greater convenience and of the highest quality. STIEBEL ELTRON has evolved into one of the leading manufacturers in the fields of "hot water", "heating" and "renewable energy" in the world.
1924 – First ring type immersion heater
Dr. Theodor Stiebel develops the first ring-type immersion heater and sets up the company "ELTRON Dr. Theodor Stiebel" in Berlin with an initial capital of 20,000 Reichsmark. The production site for his ring-type immersion heaters is located in a backyard workshop on Reichenberger Straße.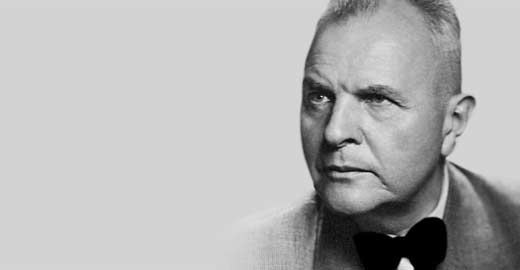 1927 – Small instantaneous water heater
The company already employs 30 staff, making total annual sales of 185,000 Reichsmark. The first small 1,000W instantaneous water heater with the then revolutionary "2-stage technology" is produced. This is the first appliance of its kind to receive VDE approval (German Association for Electrical, Electronic and Information Technologies).
1931 – The range of appliances is expanded
The range of appliances is substantially extended to include instantaneous water heaters, overflow heaters, pressure-type hot water appliances and storage boilers.
1934 – Moving to larger premises
The factory at Reichenberger Straße has become too small. The factory moves to larger premises and the staff increases to 200.
1937 – STIEBEL ELTRON continues to grow and builds a reputation for high quality products
Business foresight prompts the company's founder to travel to North and South America. Not only the US, but all five continents are ideal markets for German technology.
1938 – Production of large instantaneous water heaters
Large instantaneous water heaters go into production. By 1938 there are 35 German and 12 international patents issued. STIEBEL ELTRON continues to cement its position as an innovative manufacturer of home comfort products.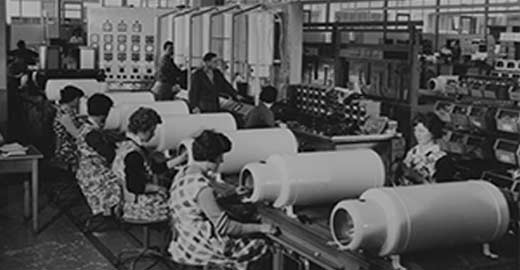 1943 – A new beginning to larger premises in Holzminden
Dr. Theodor Stiebel moves to larger premises in Holzminden within the Lower Saxony region of Germany.
1944 – New production facilities are built
New production halls are built in 1944 to enlarge the premises rented in Holzminden as early as 1943. In the following year the production of non-electrical appliances including saucepans, frying pans, linen sprinklers and irons commences.
1946 – Manufacturing continues to grow
Production of hot water appliances, convection ovens and hotplates continues and the company now has 400 employees and a turnover of 3,500,000 Reichsmark.
1949 – First hydraulic instantaneous water heater
During the period that the Federal Republic of Germany is established, STIEBEL ELTRON launches the DH18 – the first hydraulic instantaneous water heater of a new generation.
1950 – Electric boilers are introduced into the range
Electric boilers are introduced to extend the range. The brand name STIEBEL ELTRON becomes immediately associated with hot water. Trade exhibitions all over the world become a platform for innovation and technology made in Holzminden.
1952 – Aircraft kitchenettes
In Holzminden, the first aircraft kitchenettes are built – and their progressive components are still in service way up in the clouds today. Company headquarters and works are further enhanced. The number of staff and sales increases.
1957 – The first small water heater: the SNU is built
The first SNU compact storage heater is built. Company sales rise to DM 43 million. STIEBEL ELTRON also develops coffee machines for aircrafts.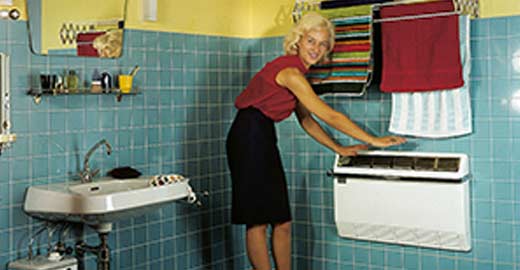 1958 – EBK 5 wall kettle is launched
The first EBK 5 wall kettle is launched and – with slightly modified design – it is still part of the (European) range. In 1958, 145,000 hot water appliances are produced – an upward trend. Forecasts for the foreseeable future are equally promising.
1960 – Dr. Theodor Stiebel, one of the pioneers of modern hot water
On 9 September 1960 company founder Theodor Stiebel dies at age 66. Holder of 160 national and international patents, he is among the pioneers of modern hot water supply.
1964 – New convection heaters in the range
STIEBEL ELTRON continues on its upward path: sales pass the DM 100 million milestone. New in the range: convector heaters with immediate heat dissipation providing pleasant warmth in whichever room you like.
1965 – Ironing machines
STIEBEL ELTRON begins production of ironing machines for domestic and commercial use.
1968 – Night storage heaters
Pioneering modern electric heating, so called night storage heaters, are developed which store heat during off-peak periods when electricity rates are cheaper and it is then used to heat the house during the daytime.
1976 – Development and production of heat pumps
As one of the first producers, STIEBEL ELTRON's development and production of heat pumps commences. Heat pump systems which operate with renewable energy start to be considered for the first time. In the years to follow, STIEBEL ELTRON works on developing heat pump technology and establishes itself as the market leader in Germany.
1977 – Solar collectors
The first solar products by STIEBEL ELTRON are launched. In the years to follow a complete range of products are released including high-performance flat plate collectors and hot water tanks.
1987 – The first all electronic instantaneous water heater in the world
The DHE is launched and the word "convenience" acquires a whole new dimension when it comes to heating hot water. The electronic instantaneous water heater provides a supply of hot water accurate to the degree, once the required temperature is set, hot water remains constant, even if further taps are opened.
1990 – Air conditioners are released by STIEBEL ELTRON
A new range of air conditioners from STIEBEL ELTRON combines the functions of cooling, ventilation, heating and dehumidifying.
1991 – Ventilation
The range is expanded to include ventilation systems with heat recovery. Ventilation systems assist in creating a healthy indoor atmosphere.
1994 – STIEBEL ELTRON continues to grow with new cylinder manufacturing facility
The most modern cylinder factory in Europe is officially opened at the Holzminden site in Germany. Cylinders for domestic hot water heaters with a capacity from 30 to 700 litres are produced with the highest standards of quality.
1995 – Eco balance sheets
As the first German manufacturer the company has eco-balance sheets drawn up for DHW heaters. These analyse the entire product life cycle as extensively as possible and the related ecological effects. Moreover it evaluates the conversions of substances and energy that occur during the service life as well as the resulting pollution.
1995 – Operations in Australia commence
STIEBEL ELTRON Australia commences operations in Melbourne and in the years to follow expands to include representation in Sydney, Perth, Brisbane and Adelaide to service all of Australia.
1999 – The innovation of STIEBEL ELTRON continues with the LWZ 303
With the LWZ 303 STIEBEL ELTRON combines all HVACR systems for the very first time in one integral appliance.
2001 – A new manufacturing facility
STIEBEL ELTRON strengthens its business in Thailand with new manufacturing facilities and a subsidiary.
2005 – STIEBEL ELTRON one of Germany's top brands
An independent committee of professionals singles out the STIEBEL ELTRON brand as a "Superbrand". STIEBEL ELTRON is thus one of Germany's top brands.
2007 – Largest and most modern manufacturing facility for heat pumps in Europe
At Holzminden the largest and most modern factory for heat pumps in Europe is built. The construction of the "Dr. Theodor Stiebel site" represents a milestone in the company's history. More than 25,000 heat pumps can be produced annually at a production site covering almost 6,000 square metres.
2009 – A second factory for heat pumps is built, responding to worldwide demand for heat pumps
STIEBEL ELTRON continues to invest in Germany as a manufacturing base at its Holzminden site with the opening of a second factory for heat pumps.
2012 – 25 years of the DHE instantaneous hot water system
The domestic hot water evolution – DHE instantaneous electric hot water system reaches its quarter century.
2014 – STIEBEL ELTRON celebrates its 90th birthday
In May 2014 STIEBEL ELTRON celebrates its 90th birthday. Over the last 90 years STIEBEL ELTRON has developed innovative products for the provision of hot water and heating, many products which have revolutionalised market sectors.
2015 – DHE Connect: revolutionary instantaneous water released
The DHE Connect sets a new benchmark for instantaneous electric hot water heaters with connection to the Internet via the home network via Bluetooth. An integrated speaker allows for music playback and a full colour touch screen allows you to get the latest weather forecast.
2015 – Energy Campus opens in Germany
STIEBEL ELTRON's modern training centre for professional education and training. The campus includes discussion rooms for both national and international guests, theoretical and practical training rooms. It is expected to have over 6,000 trainees attend annually from all around the world.
2017 – Sales record at STIEBEL ELTRON
STIEBEL ELTRON reports the highest sales in its history. For the first time, the company broke through the 500 million euro mark. The previous record was turnover from 2012 with 483 million euros. The increase was based on growth in all areas of the company: the renewable energy sector with heat pumps and ventilation units as well as the hot water area with instantaneous water heaters, small and stand storage systems.
2018 – STIEBEL ELTRON acquires Danfoss Värmepumpar AB (Thermia)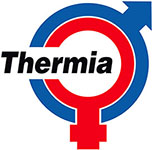 The Stiebel Eltron Group acquires Danfoss Värmepumpar AB, known by the brand name "Thermia Heat Pumps", from Danfoss A/S of Denmark. Thermia is the third largest supplier in the Nordic heat pump market, with an annual turnover of some 68 million euros. Based in Arvika, Sweden, Thermia were employers to around 210 people in Sweden, Finland and Norway as of 2018. "Thermia's strong position in the Nordic countries and its contemporary product portfolio perfectly complement Stiebel Eltron's focus on heating and cooling with renewable energies. The strength of Thermia's product offering will also help Stiebel Eltron develop its business in other markets dominated by ground source heat pumps," explained Dr. Nicholas Matten, Managing Director of Stiebel Eltron.
2019 – 125th birthday of company founder Dr. Theodor Stiebel
Dr. Ulrich Stiebel and Frank Stiebel celebrated what would have been the 125th birthday of their father – STIEBEL ELTRON company founder Dr. Theodor Stiebel – with around 150 guests at a ceremony at the Energy Campus in Holzminden. "Today, we remember a visionary of his time," declared Prof. Dr. Klaus Töpfer in his eulogy for the company founder. "Dr. Theodor Stiebel implemented his vision with daring – daring rather than courage, because daring takes account of the risk involved. He always used his findings and knowledge with a view to helping others whilst maintaining an entrepreneurial purpose. Ultimately, he chose exactly the direction of development that is paying off today."
2020 – Strategic participation by STIEBEL ELTRON in Zimmermann Lüftungs- und Wärmesysteme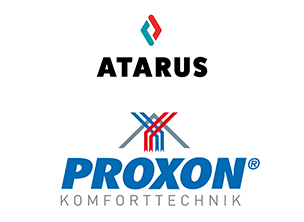 Freudenberg 's air-heating specialist focuses on advanced heat pump power source air technology in Germany. "Through this investment, we are participating to a certain extent in a market segment that we ourselves do not serve or only serve with special solutions," said Dr. Nicholas Matten, STIEBEL ELTRON's Managing Director.