LWZ 170 E PLUS
Energy efficient with up to 90% heat recovery
Designed for air flow rates of 100-300 m3/h
Quiet operation
Low power operation
Replaces indoor air with filtered fresh air from outside
Quick cooling effect via night ventilation function
Pollutants are removed from indoors
Prevents dust and pollen build up
Prevents condensation and mould through improved ventilation
Easily accessible design for filter replacement
FEQ air quality sensor (optional accessory)
Shop Replacement Filters
Ask Quick Question
Product Overview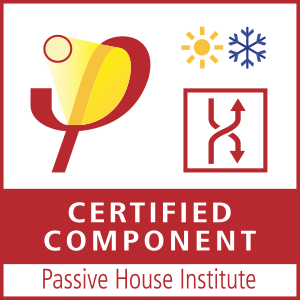 Passive House Certified Component
---
This appliance has been independently tested and certified by the Passive House Institute.
Find Out More
The LWZ 170 E PLUS uses a cross current design to effectively recover the heat in the air indoors as it exchanges this with fresh air from outdoors. The LWZ 170 E PLUS is ideal for low energy buildings and passive homes.
Product Details
The LWZ 170 E PLUS delivers up to 90% heat recovery and provides a pleasant ambiance in detached houses. The ventilation system even has a bypass function that uses cooler temperatures overnight to help cool the home down.
Technical Data
Model number
LWZ 170 E PLUS
Power consumption
13-251 W
Rated voltage
240 V
Air volume flow
100-300 m3/h
Protection level to VDE
IP31
Max ambient temperature
60°C
Filter class
G3
Air duct connection
160 mm
PE condensate drain connection
13 mm
Weight
35 kg
Height
602
Width
675
Depth
535
Sound pressure level tested 1 metre from the unit in accordance with EN255T7

33dB (A) at 100 m3/h 40Pa

43.5dB (A) at 150 m3/h 80Pa

51.5dB (A) at 225m3/h 160Pa
Downloads
FAQ
1. What size ventilation system do I require?
STIEBEL ELTRON has a specification team that can assist you with the selection of a ventilation system and ducting configuration based on your building plans.
2. What is the ducting connection on an LWZ 170 E PLUS?
The LWZ 170 E PLUS has extract and supply air connections of 160 mm diameter.
3. Can the LWZ 170 E PLUS be installed outdoors?
No, the LWZ 170 E PLUS is designed to be installed indoors.