Ventilation systems can help to minimise the spread of aerosols in rooms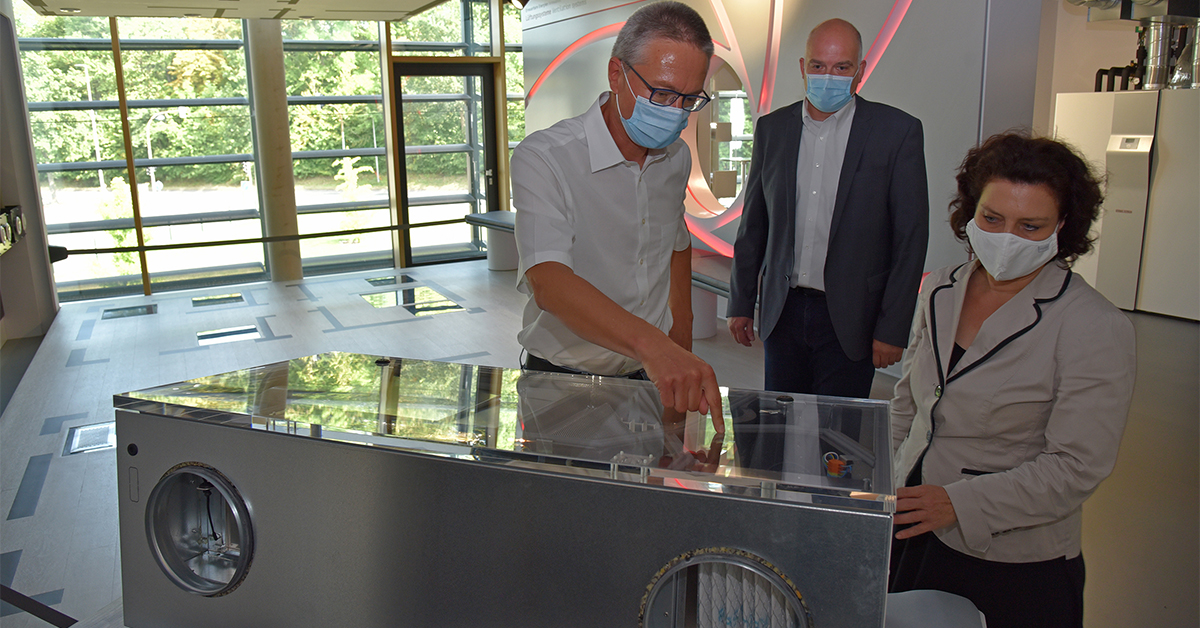 Since the coronavirus spreads easily, especially in poorly ventilated rooms, and this increases the risk of infection, good ventilation is an important protection against infection. Against this background, ventilation systems are becoming more and more important. Lower Saxony's Minister of Health, Carola Reimann, has now visited Stiebel Eltron in Holzminden: The Lower Saxony company develops and produces decentralised ventilation systems. "We know that the coronavirus spreads via liquid particles that are produced when breathing, coughing, speaking and sneezing. In particular, the tiny, so-called aerosols can stay in the air for a longer period of time and thus spread quickly, especially in closed rooms. There is evidence that decentralised ventilation systems can help.
"Ventilation devices reliably ensure a regular exchange of air, which reduces the concentration of aerosols and thus viruses in the air and significantly reduces the risk of infection," says the managing director of the Lower Saxony company, Dr Kai Schiefelbein, in conversation with the minister. The focus of the visit was on solutions for use in classrooms, kindergartens and day-care centres: "Decentralised devices were developed especially for this area, which can also be retrofitted in existing buildings with relatively little structural effort." Currently, the necessary air exchange can still largely be achieved via open windows - "but when the temperatures drop again in autumn and especially in winter, that is no longer an option," says Schiefelbein.
Even completely independent of the current corona pandemic, ventilation systems are a technology that receive far too little attention, says Kai Schiefelbein: "Dust, pollen and street noise stay outside, unpleasant smells, moisture and possible pollutants are reliably removed. At the same time, the CO2 concentration is reduced - reliably at any time of the day or night. Finally, the valuable thermal energy is also recovered from the exhaust air and transferred to the fresh supply air, which means considerable energy savings."
The minister was very interested in the ventilation solutions, especially for use in schools: "It is good that we have companies here in Lower Saxony that research and produce in this area."
---
Read More News
Share