Vanquish Project
Queensland | Family House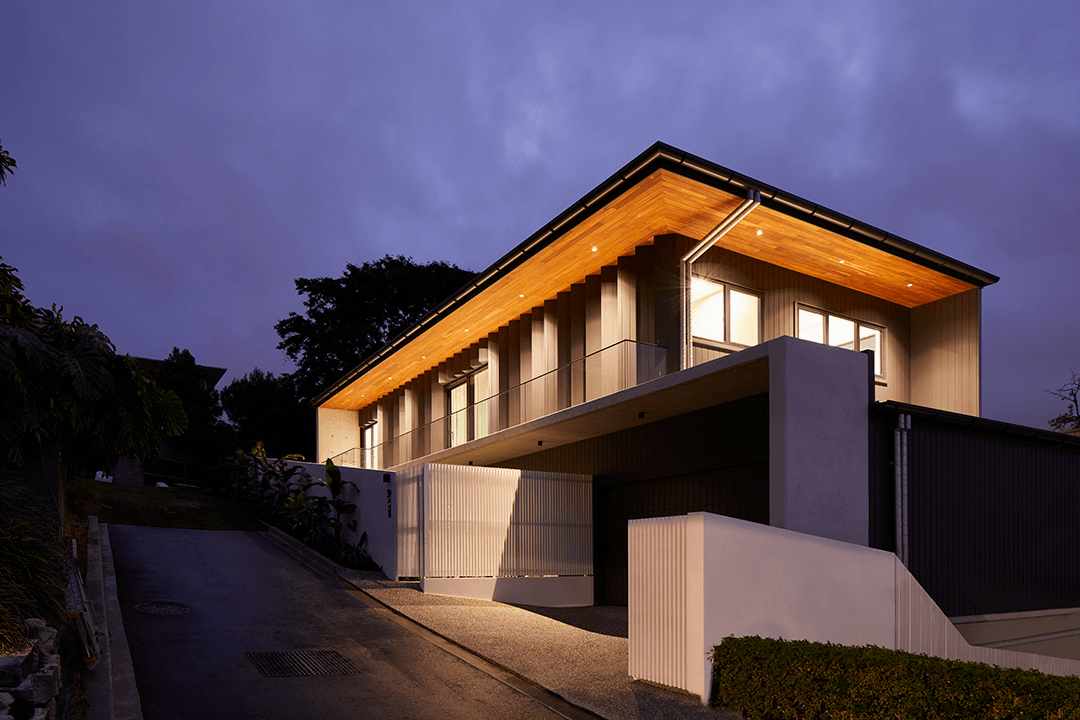 When Collaboration Leads to an All-Green Solution
In 2019, Solaire Properties had a vision to create an all-green, electric home that proved living in comfort and luxury does not have to come with a huge ecological footprint. Their goal was to design and build a home that was both energy efficient and self-sufficient without compromising on size or style. In 2020, Solaire completed their "Vanquish Project" in collaboration with Brisbane's Redback Technologies and Stiebel Eltron. The result was a seamless blend between an eco-conscious design and luxury living to create the home of the future.
As an all green, electric home, Vanquish is designed to be less expensive to run and more energy efficient by utilising new technology in an innovative and integrated way. In addition to being all-electric, Vanquish is Australia's largest architectural home with a full "passive house" certification, redefining luxury and sustainability as we know it, and challenging everything we ever believed about building a house.
A "passive house" is a building standard that is energy efficient, comfortable, affordable to run and ecological. A principal element of this design concept is the aim to drastically reduce a home's heating and cooling requirements, effectively removing one of the homes largest consumer of energy – air conditioning – from the equation. Vanquish's design combines high-performance windows and doors for increased energy efficiency, advanced air conditioning and ventilation systems for temperature-controlled, pollen-filtered air, and a full solar and battery storage set-up, creating a fully sustainable, all green, electric home. This level of energy efficiency means that Vanquish is what is known as a net-zero home, meaning the amount of renewable energy created by the home each year is equal to or more than the amount of energy consumed, leaving its occupants with a net-zero energy bill.
One secret to Vanquish's energy efficiency lies in the collaboration between the home's renewable energy source and its hot water system.
Vanquish is powered by Redback Technologies' Smart 3-Phase Hybrid System, combining 10kWh of solar power with 28kW of battery storage. This system operates by generating energy while the sun is out, and using it to power the home while storing any excess solar production in the batteries. The home's hot water system is heated by a high tech, energy-efficient Stiebel Eltron hot water heat pump.
What is truly impressive is not how these systems work individually, but how they have been configured to work together in an advanced and highly efficient setup. The Redback Smart 3-Phase Hybrid system has been integrated with the Stiebel Eltron hot water heat pump to operate through a Relay. The Relay controls when the system can use solar energy to heat the water instead of turning on the heat pump. Since Solar Photovoltaic (PV) panels generally produce the most energy in the middle of the day during the peak solar window, the excess energy produced at that time is stored in the batteries as well as stored in the form of hot water. The excess energy produced is therefore utilized within the home instead of being sold back to the grid for a minimal sum.
The relationship between the Redback Smart 3-Phase Hybrid System and the Stiebel Eltron water heating system allows for the home to capitalise on its self-produced energy and use it in better, more efficient ways. Vanquish is an exciting project that perfectly melds luxury with energy efficiency, proving you do not need to compromise on style to build green. Its unique collaboration with Redback Technologies and Stiebel Eltron helped to create a home that is better and smarter with its energy. Their systems work together to maximise Vanquish's self-sufficiency, and the result is a truly impressive all green, electric "passive home."
Building a home with renewable energy is about more than just helping the planet, it is about becoming more self-sufficient and self-reliant. Vanquish proves that you do not have to compromise on design to build green. While Vanquish was a large-scale example of what can be achieved when energy efficiency is considered at the design stage, the lessons learned can be applied to new builds all over Australia. The key lies in the design stage. Build smarter, live better, and ultimately, pay less.