Monash University
Victoria | Residential and Commercial Building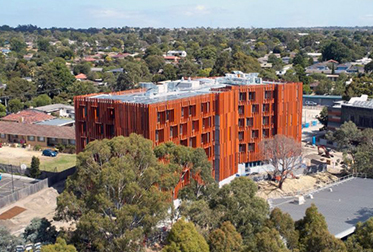 The first large scale building in the southern hemisphere to achieve passive house certification was built this year at Monash University in the form of a new student residence. STIEBEL ELTRON – the future-oriented green energy company – made a significant contribution to this certification.
The main objectives of the construction project were comfort, health and extremely low energy consumption. To this end, the total area of 6000 m² with 150 individual rooms were designed to be sustainable and environmentally friendly in various ways.
The cross-laminated timber construction by Multiplex reduces the carbon concentration by half compared to conventional concrete constructions. A dry creek bed connects the plant with the natural river paths of the campus and manages storm water flows. In addition, a harvesting tank allows to utilise rainwater.
An important aspect is that the whole construct is powered by renewable energy. This is where Stiebel Eltron came into play. The complex is fully electric, supplied with wind energy by the wind farm, Murra Warra, and draws solar energy from the 60 kWp rooftop solar panels. As part of the all-electric-strategy, Stiebel Eltron supplied and commissioned three WPL23E three phase air sourced hydronic heat pumps for hot water.
| | |
| --- | --- |
| Products | 3 x WPL23E air sourced hydronic heat pumps |
| Architect | Jackson Clement Burrows Architects |
| Engineering & Passive House Consultant | AECOM |
| Passive House Certifier | Grün Consulting |