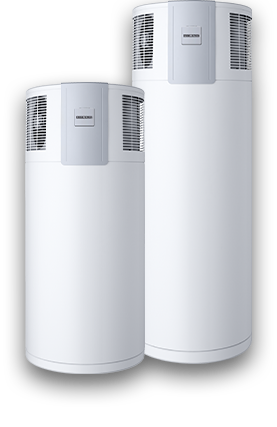 STIEBEL ELTRON's premium quality hot water heat pumps use free natural energy from the air to create hot water.
The WWK 222 (H) and the WWK 302 (H) are compact domestic hot water heat pumps designed specifically for outdoor installation in Australia to supply domestic hot water to several drawoff points.
View More Information
Calculate Savings


Features
---
Click on a feature to learn more.
Rebates
---
Rebates and financial incentives are offered Australia-wide at a Federal and State level. More information on hot water rebates and a calculator can be found by clicking the button below.
Calculate Your Rebates
How Heat Pumps Work
---
1. A fan draws air through an evaporator. Thermal energy within the air is transferred to a liquid refrigerant causing it to change into gas.
2. The refrigerant gas is then drawn into a compressor which increases the pressure and, as a result, increases the temperature.
3. A condenser (heat exchanger) then transports gaseous refrigerant around the outside of the water cylinder. This heats the water inside and the gaseous refrigerant reverts back into a liquid.
4. The pressure of the refrigerant is reduced as it goes through an expansion valve and returns to the evaporator for the process to start all over again.
Get In Touch
Want to learn more?
Click the button below and fill out your details or call 1800 153 351.
Contact Us